Want to be an editor? Request an account by joining the SRK Wiki Discord and follow the instructions in #server-info
Pokken Tournament DX/Shadow Mewtwo
From Shoryuken Wiki
Introduction
Shadow Mewtwo is a volatile character who is the prominent glass cannon of the roster. He uses his own health during all special attacks, with the only exception being Psywave itself. Known to be as strong as the player is, Shadow Mewtwo is extremely volatile with a game focused on controlling the opponent with mixups and solid offense.

SM2's FP is very strong given threatening tools at round start to claim center stage control, thus creating a good start on his agenda to get a shift with his opponent on the outskirts (meaning near the wall in Duel). Usually at longer ranges, the focus is more towards stage position / collecting synergy crystals although his projectiles are still strong. Specifically, sY and jY which control movement fairly well. Close in to midrange, he has fY, Slash, Homing and Zen. The first three being main options that make one second guess trying to contest, as each has a certain property or two that is pretty good:: high priority, tracking, and / or cancelability. Zen is just there kinda as a slower fY in some cases, but less minus and a tad slower (shrug).

In 2D, SM2 has strong tools in neutral. More of a personal opinion, but he has one of the best neutral game out of the roster, with few beating him. His game here is mainly as the (whiff) Punisher. Tickling toes with 2Y, giving the cold shoulder (6X) to those who you don't like and just throwing some of that dark physic energy at them (Blast fireballs). His reactive anti air game is pretty good with 8Y and 8A, although getting crafty with a 2X or Teleport crossunder isn't something to shy away from to gain a better position.

SM2's Burst Mode can be very intimidating, although it isn't for long. His meter gauge is 100cc, the lowest in the game thus making him tied with a few other characters for fastest Burst gain. However, he solely takes the cake when it comes to shortest Burst time at 8 seconds. A huge thing to note is that he doesn't use his own HP for any Special attacks whilst in Burst! Use that to your advantage! Underneath the surface he has some changes to his moveset that allow him to confirm into a threatening Burst Attack: Dark Nova. About his Dark Nova, it has a very large hitbox and deals lots of chip. The closer the opponent is to the center of the hitbox, the more damage it does. It's more commonly used as a punish tool, but there are many ways to confirm it so feel free to explore what you can do with it.


480 HP
100 CC Synergy Gauge
Burst Mode Duration: 8 Seconds
Shield: Weak
High Stance: Charges Synergy Gauge (can move while active).
Low Stance: Grants counter armor against Lows on frame 5.
Shadow Mewtwo cannot crouch Highs with Low Stance.
FP Forward Dash: 17 Frames
FP Back Dash: 23 Frames (Invincible from frame 1-8)
FP Side Dash: 27 Frames
DP Forward Dash: 17 Frames
DP Back Dash: 21 Frames (Invincible from frame 1-8)
General Moves
Field Phase Moves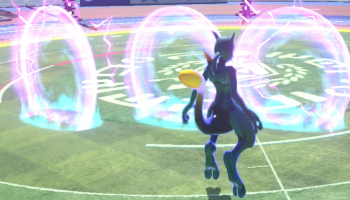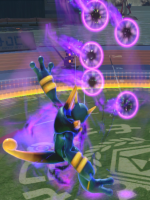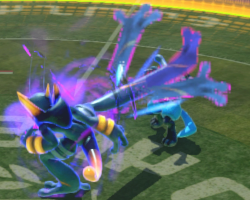 Weak Moves
Strong Moves
Pokemon Moves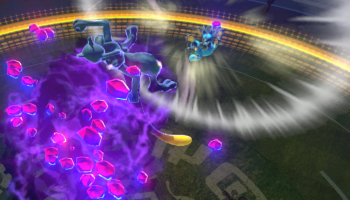 Combos
Notable Players
External Resources