Want to be an editor? Request an account by joining the SRK Wiki Discord and follow the instructions in #server-info
Pokken Tournament DX/Weavile
From Shoryuken Wiki
Introduction
Weavile is a character that's all about speed and momentum. Having a dominant walk speed as well as mobility options both on the ground and in the air allows Weavile to approach and dance around the opponent with ease. Signature moves such as Agility giving projectile invincibility makes zoners re-evaluate their gameplan. And Icicle Crash which can be used for air stall, as an angled double jump, or something to chuck at the opponent while also creating space. Weavile's got a ton of counter pierces. Many leaving Weavile in an advantageous state when blocked, giving the character a solid oki game. Adding onto all of this with instances such as jab pressure and an active Burst Mode, Weavile really tests the opponent's defense.

In comparison though to those that have similar health, Weavile lacks long-ranged options. There's always Icicle Crash, but 9 chip damage won't be able to cut it. This forces Weavile to get up close to be able to deal relevant damage. This becomes more of problem when Weavile is faced against the bulkier side of the cast that can withstand multiple exchanges, and be able to balance it all out with one correct play. With the use of knockback and spacing, the opponent never has to worry about retaliation because of the short range Weavile's normals have.

To be able to excel with Weavile, one must fully commit to the tools the character has to offer. Hesitation leads to "Should've, Would've, Could've" thoughts. With the potential to maneuver around Counter Attacks and Agility through Burst Attacks, Its alot about having confident play and keeping up with the pace Weavile brings.


540 HP
100 CC Synergy Gauge
Burst Mode Duration: 13 Seconds
Shield: Weak
High Stance: Recharges shield health.
Low Stance: Invincible against Highs on frame 1.
FP Forward Dash: 13 Frames
FP Back Dash: 25 Frames (Invincible from frame 1-8)
FP Side Dash: 25 Frames
DP Forward Dash: 13 Frames
DP Back Dash: 21 Frames (Invincible from frame 1-8)
General Moves
Field Phase Moves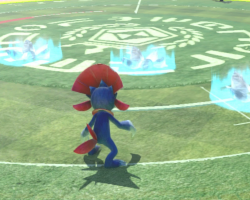 Weak Moves
Strong Moves
Pokemon Moves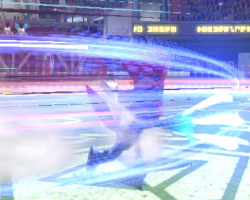 Combos


Field Phase


sY


sY > j.Y > fA (88 Damage)
sY > j.Y > j.X (104 Damage)
sY > j.Y > 5AAAA (122 Damage)


fY




bY




j.Y


j.Y > j.Y > j.Y > XX (172 Damage)
j.Y > j.Y > j.Y > j.X (178 Damage)
j.Y > j.Y > j.Y > j.X > j.A > bB (157 Damage)
j.Y > j.Y > j.Y > 5AAAA (204 Damage)


j.X


(Opponent near the wall) j.X > j.A > bB > j.X (168 Damage)
(Burst Mode) j.X > j.A > bB > j.X > j.A > bB > j.X (240 Damage) Only works on:

-Darkrai
-Pikachu/Pikachu Libre
-Aegislash
-Croagunk
-Gengar
-Decidueye
-Empoleon
-Chandelure
-Charizard

Any character not listed requires a Speed buff.


Duel Phase


2Y


(Critical Hit) 2Y > 2YY > 5AAAA (138 Damage)
(Critical Hit) 2Y > 2YY > 8A > 8AA (132 Damage)


4Y


4Y > 4YY > 4YYY > 4YYYX > 6A (86 Damage)
4Y > 4YY > 4YYX > 5AAAA (95 Damage)
(Midscreen) 4Y > 4YY > 4YYX > 5AAAA > W! > 5Y > 5AAAA (169 Damage)
4Y > 4YY > 4YYX > 5A > L+R (121 Damage)
(Critical Hit) 4Y > 6X > 5AAAA (131 Damage)
(Critical Hit) 4Y > 6X > 6A (105 Damage)


5Y


5Y > 5YY > 5YYY > 5YYYX > 6A (118 Damage)
5Y > 5YY > 5YYX > 5AAAA (139 Damage)
(Midscreen) 5Y > 5YY > 5YYX > 5AAAA > W! > 5Y > 5AAAA (247 Damage)
5Y > 5YY > 5YYX > 5A > L+R (167 Damage)
(Critical Hit) 5Y > 6X > 5AAAA (173 Damage)
(Critical Hit) 5Y > 6X > 6A (131 Damage)


8Y


8Y > j.A > 1B > 5AAAA (132 Damage)
8Y > j.A > 1B > j.R > j.A > 1B > j.R > 5AAAY > 8Y > j.AY/X x2 (122 Damage)
8Y > j.A > 1B (Delay) > j.R > 5YYY > 6A (112 Damage)
8Y > j.A > 1B > j.R > j.A > 1B > j.R > j.Y > 5Y > 5YY > 5YYY > 6A (136 Damage)
8Y > j.A > 1B > j.R > 5A > 8A > 8A[A] (154 Damage)
(Burst Mode) 8Y > j.A > 1B > j.R > j.A > 1B > j.R > j.Y > 5Y > 5YY > 5YYY > L+R (178 Damage)
(Corner) 8Y > W! > j.A > 3B > j.Y > j.A > 1B > j.R > 5[X] > 6A (228 Damage)
(Corner) 8Y > W! > j.A > 1B > j.R > j.Y > W! > j.A > 1B > j.R > 5Y > 5AAAA (262 Damage)
(In the corner) 8Y > j.A > 1B > j.R > 66 > 5AAAA > W! > 5Y > 5AAAA (240 Damage)


5X


5X > 4A > 2X (150 Damage)
5X > 4A > 5Y > 5YY > 5YYY > 5YYYX > 6A (155 Damage)
5X > 5A > 8A > 8AA (156 Damage)
5X > 5A > L+R (181 Damage)
5X > 4A > 5X > 4A (160 Damage) Only works on:

-Braixen

5[X]


5[X] > 8A > 8A[A] (192 Damage)
5[X] > 5AAAA (170 Damage)
5[X] > 5AAAY > 5Y > 5YY > 5YYY > 6A (144 Damage)
(Corner) 5[X] > W! > j.A > 1B > j.R > j.A > 1B > j.R > j.Y > 5Y > 6A (270 Damage)
(Corner) 5[X] > W! > j.A > 1B > j.R > j.Y > W! > j.A > 1B > j.R > 5Y > 5AAAA (304 Damage)


6X / 6[X]


6X / 6[X] > 5AAAA (140 / 150 Damage)
(Midscreen) 6X / 6[X] > 5AAAA > W! > 5Y > 5AAAA (265 / 273 Damage)
(Corner) 6X / 6[X] > W! > j.A > 1B > j.R > j.Y > W! > j.A > 1B > j.R > j.Y > W! > 5Y > 6A (256 / 266 Damage)
(Corner) 6X / 6[X] > W! > j.A > 1B > j.R > j.A > 1B > j.R > j.Y > 5Y > 5AAAA (288 / 293 Damage)
6X / 6[X] > 5AAAY > 2X (112 / 122 Damage) Only works on:

-Gardevoir
-Scizor
-Suicune

2A


(Corner) 2A > W! > j.A > 1B > j.R > j.A > 1B > j.R > 5[X] > 6A (279 Damage)
(Corner) 2A > W! > j.A > 1B > j.R > j.Y > W! > j.A > 1B > j.R > 8A > 8A[A] (292 Damage)


4A


4A > 5Y > 5YY > 5YYY > 5YYYX > 5AAAY > 5X > 5AAAA (153 Damage)
4A > 5X > 8A > 8A[A] (170 Damage) Only works on:

-Lucario
-Gardevoir
-Braixen
-Suicune

8A


(Corner) 8A > 8AA > W! > 5Y > 6A (199 Damage)
(Corner) 8A > 8AA > W! > 6X > 6A (211 Damage)
(Corner) 8A > 8AA > W! > 6X > L+R (258 Damage)
(Corner) 8A > 8AA > W! > 6X > 5AAAA (273 Damage) Only works on:

-Darkrai
-Blaziken
-Lucario
-Gardevoir
-Aegislash
-Sceptile
-Gengar
-Machamp
-Braixen
-Empoleon
-Mewtwo/Shadow Mewtwo
-Suicune
-Charizard

j.A


(Above the opponent) j.A > 5B > j.Y > 5Y > 5YY > 5YYX > 5AAAA (179 Damage)
(Above the opponent) j.A > 5A > j.Y > 5Y > 5YY > 5YYY > 5YYYX > 6A (158 Damage)
(Anti-Air) j.A > 1B > j.R > j.A > 1B > j.R > j.A > 1B > j.R > 5AAAA (203 Damage)
(Anti-Air) j.A > 1B > j.R > j.A > 1B > j.R > j.A > 1B > j.R > 6A (153 Damage)
(Anti-Air) j.A > 1B > j.R > j.A > 1B > j.R > j.A > 1B > j.R > L+R (236 Damage)
Notable Players
External Resources