Want to be an editor? Request an account by joining the SRK Wiki Discord and follow the instructions in #server-info
Difference between revisions of "Pokken Tournament DX/Scizor"
From Shoryuken Wiki
---
Revision as of 03:42, 12 September 2020
Introduction
Scizor is a Power character who uses his tricky movement and great overall damage output to make his opponent regret every poorly pressed button. His Hover Dash, Hover Turn, and Hover Glide are some of the best movement options in the game, and he can bait and punish the slightest mistake for a minimum of 200 damage almost anywhere on the screen. In Field Phase, Scizor has surprisingly good zoning tools. He can lay his infamous nY staples to limit the opponent's options, and punish many attempts to shift the phase with his low and mid-low crushing b[Y]. In Duel phase, Scizor excels on defense. With access to one of the best DP-like reversals with U-Turn, along with a fantastic Counter Attack that can be cancelled almost instantly into other options, and a stronger than average shield, Scizor can withstand a lot of pressure and fight back with his CADC "parries". His Bullet Punch and advancing Hover Dash attacks let him punish his opponents for 200-300 damage from half the screen away. This gives Scizor a threatening mid-range neutral.

Scizor is not without his flaws however: Much like in the main series Pokemon games, Scizor seriously struggles if he cant get his Swords Dance stocks up quickly. Scizor also has very poor frame data, with almost all of his few safe moves being high attacks. In addition, Scizor performs poorly at long range in Duel Phase, with no option to counteract beam/laser type attacks and one, bad projectile. Scizor needs to fight for his Sword stock and quickly find his place on the stage in order to do well, which proves to be easier said than done.


600 HP
200 CC Synergy Gauge
Burst Mode Duration: 14 Seconds
Shield: Strong
High Stance: Grants counter armor against Special Mids on frame 5.
Low Stance: Invincible against Highs on frame 1.
FP Forward Dash: 21 Frames
FP Back Dash: 25 Frames (Invincible from frame 1-8)
FP Side Dash: 25 Frames
DP Forward Dash: 17 Frames
DP Back Dash: 25 Frames (Invincible from frame 1-8)
General Moves
Field Phase Moves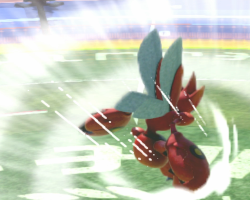 Weak Moves
Strong Moves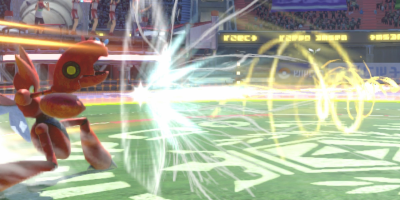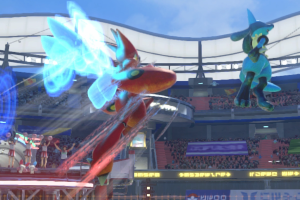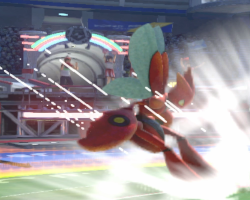 Pokemon Moves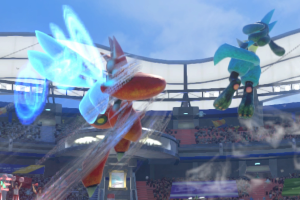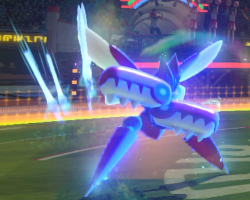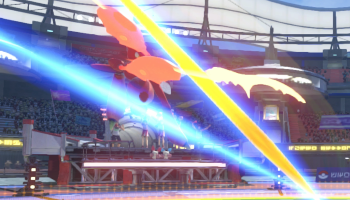 Combos
Universal bread and butter combos only, full combo guide can be found on Pokken Arena


Field Phase


nY




sY




j.[Y]




nA


nAA > s[Y] > XX (87 damage)



Duel Phase


5Y


5YY > 1AX:X (148 damage, 7 PSP)
5YY > 6AA > 6YX > 4Y > 2Y~1A~Y+B (208 damage, 12 PSP, requires one Swords Dance stock)
5YY > 6AA > 6YX (W!) > 1A~Y+B (224 damage, 12 PSP, requires one Swords Dance stock)


2Y


2Y > 1AX:X (116 damage, 4 PSP)
2Y > 1AX:X (W!) > 1A~Y+B (155 damage, 12 PSP)


6Y


6YX > 5YY~1A~Y+B (188 damage, 12 PSP)
6YY (W!)> hXX > j.YYA (242+30 damage, 254+30 damage with one Swords Dance stock, 12 PSP)


5X


5XX > j.YYX~R > j.YYAA (211 damage, 12 PSP, requires one Swords Dance stock)


6X


6XX > j.YX~R > j.YX~R > j.YA (203 damage, 12 PSP)
6XX > j.YYX~R > j.Y(2)YAA (230 damage, 12 PSP, requires one Swords Dance stock)
6XX > j.Y(W!)YXA (203+30 damage, 246+30 damage with one Swords Dance stock, 12 PSP)


1/2/3A


1/2/3AA~A > j.YYX~R > j.YX~R > j.Y(2)A (184 damage, 12 PSP, requires one Swords Dance stock)
1/2/3AA~A > j.Y(W!)YXA (185 damage, 11 PSP)


6A


6AA > 6YX > 1A~Y+B (210 damage, 12 PSP, requires one Swords Dance stock)
6AA > 6YX (W!) > 1A~Y+B (236 damage, 12 PSP, requires one Swords Dance stock)



Hover Dash

hY


hY~1AX:X (146 damage, 6 PSP)
hY~6AA > 6YX > 4Y > 2Y~1A~Y+B (206 damage, 12 PSP, requires one Swords Dance stock)
hY~6AA > 6YX (W!) > 1A~Y+B (222 damage, 12 PSP, requires one Swords Dance stock)
hY~6A (W!) > 1A~Y+B (186 damage, 12 PSP)


hX


hXX > j.YYX~R > j.Y(2)YAA (244 damage, 12 PSP, requires one Swords Dance stock)
hXX > j.YX~R > j.YX~R > j.YA (221 damage, 12 PSP)
hXX > j.Y(W!)YXA (221+30 damage, 256+30 damage with one Swords Dance stock, 12 PSP)
Notable Players
External Resources

Pokken Arena: Scizor

Frame Data: Scizor

Character Discord: Scizor