Want to be an editor? Request an account by joining the SRK Wiki Discord and follow the instructions in #server-info
Pokken Tournament DX/Blaziken
From Shoryuken Wiki
Introduction
Blaziken is a very aggressive character who uses the threat of Its powerful pressure tools to force mistakes from opponents on defense and in neutral. It compensates for its lackluster defense and zoning by keeping opponents at the wall and constantly mixing them up once it lands a single hit.

Blaziken's main strengths are offensive pressure up close, whiff punishing, and damage. Blaziken has several moves that leave it at frame advantage, forcing the opponent on the defensive. To compliment these moves, it has multiple attacks that counter pierce and it has moves like enhanced Heat Wave which can outlast even fully charged counter attacks. Its wall splat combos are amongst the strongest in Pokkén and can lead to either a Phase Shift or into multiple safe setups.

Blaziken's shortcomings are controlling space from long to mid range and defense in general. In both Field and Duel Phase, it cannot contest zoners until it gets close up. Its own projectiles have low priority and also have long startups and recovery. On defense, Blaziken's anti-air is amongst the slowest and it is one of the few characters without a command counter or red armor reversal. Its backdash also has lots of recovery, making it an inconsistent option to escape pressure with.


600 HP
150 CC Synergy Gauge
Burst Mode Duration: 14 Seconds
Shield: Normal
High Stance: Grants counter armor against Special Mids on frame 5.
Low Stance: Grants counter armor against Lows on frame 5.
Blaziken cannot crouch Highs with Low Stance.
FP Forward Dash: 21 Frames
FP Back Dash: 33 Frames (Invincible from frame 1-8)
FP Side Dash: 33 Frames
DP Forward Dash: 21 Frames
DP Back Dash: 29 Frames (Invincible from frame 1-8)
General Moves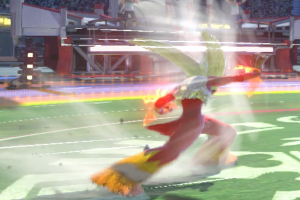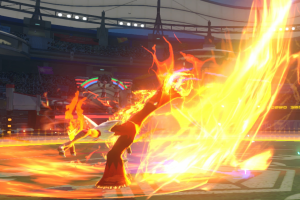 Field Phase Moves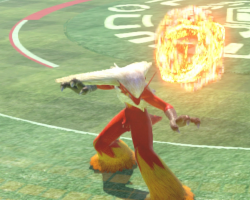 Weak Moves
Strong Moves
Pokemon Moves
Combos


2Y


(Critical Hit) 2Y > 4[A] (152 Damage)


5Y


5Y > 5YY > 5YYY > 6[A] (162 Damage)
5Y > 5YY > 5YYY > 4[A] (176 Damage)
5Y > 5YY > 5YYY > L+R (226 Damage)


8Y


8Y > j.[A] > j.R > j.Y > 6YX (157 Damage)
8Y > j.[A] > j.R > j.Y > 8Y > j.R > j.Y > 8Y > j.R > j.Y > 6YX (183 Damage)


j.Y


j.Y > 6[A][X] (172 Damage)
(Anti-Air) j.Y > j.R > j.Y > 8[A] (208 Damage)


2X


2X > 2XX > 6YX (140 Damage)
2X > 2XX > 5Y > 5YY > 6[A] > 6YX (154 Damage)


5X


5X > 5X > 4[A] (204 Damage)


6X


(Critical Hit) 6X > 6XX > 6XXX (180 Damage)


j.X


j.X > 5Y > 5YY > 5YYY > 6[A] (190 Damage)
j.X > 5Y > 5YY > 5YYY > 4[A] (202 Damage)


5[A]


5[A] > 2X > 2XX > 6YX (180 Damage)


6A


(Corner) 6[A][X] > W! > j.Y > ]X[ (285 Damage)
(Corner) 6[A][X] > W! > 5[A] > 6YX (282 Damage)


j.[A]


j.[A] > j.R > j.Y > 6YX (190 Damage)
j.[A] > j.R > j.Y > 6[A] > 6YX (228 Damage)
Notable Players
External Resources